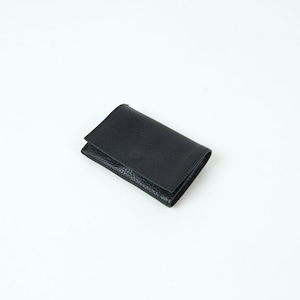 PLAY WALLET LEATHER (BLACK) | Minimalight × MAGASINN KYOTO
「最も小さくて便利なサイフ」を目指してデザインされたミニマライトウォレット。カード大サイズでお札・コイン・カードをそれぞれ独立して収められるMADE IN KYOTOのお財布です。

マガザンキョウトが別注したBLACKの上品なシボ革は、旅やアウトドアからビジネスカジュアルまで、幅広いシーンでお使いいただけます。

BLACKカラーのシボ革の良いところは、人それぞれの経年変化が現れつつも、汚れやみすぼらしさを感じる経年「劣化」を感じにくいところです。使えば使うほど艶は増し、愛着が湧いてくることでしょう。

X−PACと比べ、「ループ・ゴム・マジックファスナー」を「ループ無し・カード入れもレザー・スナップボタン」に変更し、さらにシンプルにまとめています。
カード収納は6枚を推奨。

革は"ARIZONA"というイタリアで製造されフランスで鞣されている高品質なレザーを使用。
柔らかく耐久性があり、時間が経つにつれてレザーらしい経年変化が楽しめるのが特徴です。
京都で2代続く革職人さんに、一つ一つ丁寧に作っていただいています。

※革は天然の素材のため一つ一つ表面のシボに差があり、一部キズがあるものもございます。また染料仕上げのため、生産時期により色の違いがあります。予めご了承頂きますようお願いいたします。




Minimalight is designed to aim to be "the smallest useful wallet ", and it's a "MADE IN KYOTO" wallet which is credit card size and has independent spaces for bills, coins, and cards.

The black color one which is made to order by Magasinn Kyoto is useful in various situation like as trip, outdoor, and business casual.

We changed "a Loop, a elastic, and velcro" to "No loop, a leather card case, a snap button " which was aimed to be more simple one than X−PAC.
We recommend storage of six cards .

Leather is used high quality leather "ARIZONA" which is made in Italy and be tanned in France. It's soft and durable, and you can enjoy the aging which is speciality of leather as time passes. Leather craftsman who has history of two generations history in Kyoto is making them with wholeheartedly.

※Every each leather has different emboss and scratch on the surface because of natural material. Furthermore there are difference of colors depends on production period because of dyeing process. Thank you for your understanding in advance.
*Tax included.
*Additional shipping charges may apply, See detail..

About shipping fees
The shipping fee for this item varies by the shipping method. Customers can choose the shipping method at time of purchase.
ゆうパケット

Shipping Fees are the same all over country inside Japan ¥500

Yu-Pack

Your delivery status can be checked online.

Shipping Fees are the same all over country inside Japan ¥800
EMS

This shipping supports package tracking and compensation for damages.

Shipping Fees are the same in all countries outside Japan ¥2,000
*Japan domestic shipping fees for purchases over ¥11,000 will be free.